UJI RESPON MORFOLOGIS TANAMAN PADI (Oryza sativa L.) VARIETAS IR64, CIHERANG DAN PANDAN WANGI MENGGUNAKAN POLYETHYLENE GLICOL 6000
ANGGA RAHABISTARA SUMADJI

LEO ELADISA GANJARI
Abstract views:
671
,
PDF downloads:
1023
Abstract
Rice (Oryza sativa L.) is a very important food crop because to date rice is still used as staple food for most of the world population, especially Asia. The impact of natural disasters in the form of long droughts and fertile rice fields that turned the function into industrial and residential areas caused rice production to decline every year. The rice seed requires a large amount of water to be absorbed before germination can occur, which is about two or three times its dry weight. To improve the resistance of rice plants to the stress of drought, it is necessary research that can produce rice plants that are resistant to drought stress.
This research examined consistency of morphological response of rice to dryness in germination phase by treatment of Polyethylene Glycol (PEG) solution as osmotic solution. This research was conducted by factorial experiment in Completely Randomized Design (RAL) consisting of 2 factors with 3 replications. The first treatment factor is the variety of rice varieties consisting of 3 varieties of IR64, Ciherang and Pandan Wangi varieties. The second treatment factor was the level of germination solution with PEG 6000, the treatment consisted of 4 levels of solution ie PEG 6000 with 0 g / l water, 10 g / l water, 15 g / l water and 20 g / l water.
The results showed that Ciherang varieties of PEG 15 g / l and 20 g / l had good germination and root penetration is best compared with other varieties. The number of root penetrating layers of Ciherang and Pandan Wangi varieties has the largest number of roots compared to IR64 varieties. For plant height, rice plants have an average height ranging from 81.4 - 107, 4 cm with the number of tillers 5-6.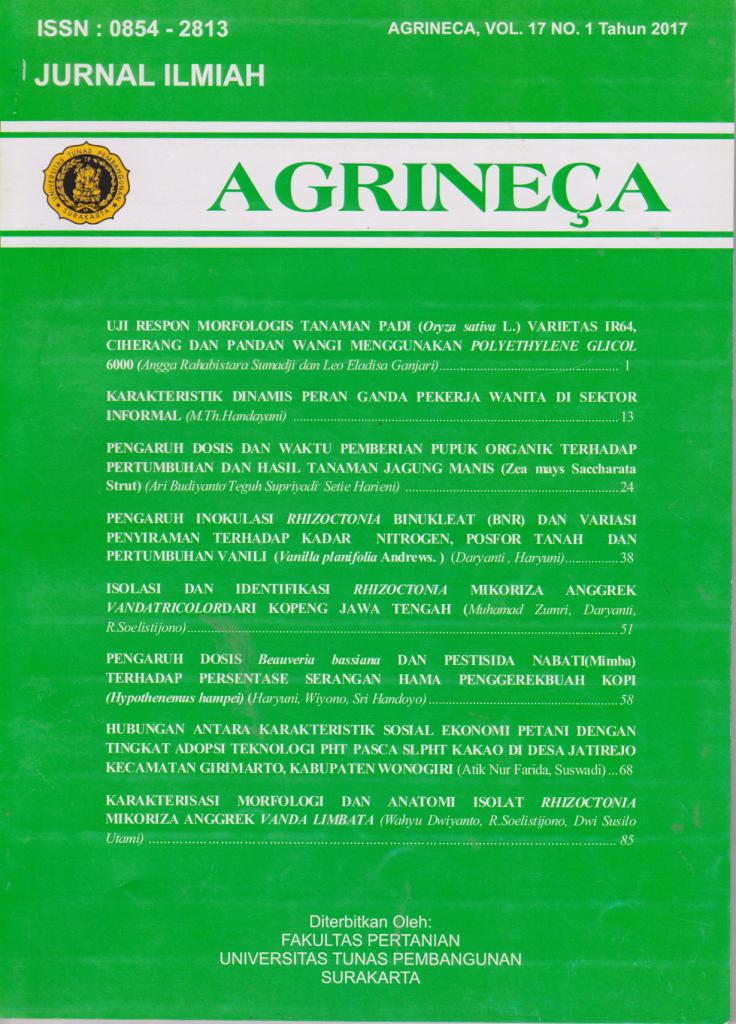 How to Cite
SUMADJI, A. R., & GANJARI, L. E. (2017). UJI RESPON MORFOLOGIS TANAMAN PADI (Oryza sativa L.) VARIETAS IR64, CIHERANG DAN PANDAN WANGI MENGGUNAKAN POLYETHYLENE GLICOL 6000. JURNAL ILMIAH AGRINECA, 17(1). https://doi.org/10.36728/afp.v17i1.547